Insurance & Financing
TYPES OF PAYMENT ACCEPTED:
Cash, Personal Checks, Money Orders & Cashier Checks
Visa, Mastercard and Discover
We are in network with some Dental Insurance companies, however, you may have out of network benefits
FINANCING OPTIONS:
CareCredit:  This company is an excellent financing option, as you don't have to come up with any money down!  They offer INTEREST FREE financing for 6 or 12 months as well as extended payment plans from 24-60 months at 14.9% interest. Get approved TODAY!  Clink on the link below to apply now!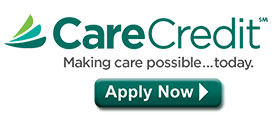 ICare Financial Corporation:  This payment plan is set up over the phone or in our office directly and there is no credit check.  They require you to pay 30% down via debit card (attached to a checking account - prepaid cards are not accepted) and then automatic withdrawels from your debit card once a month.  They charge a one time 15% fee to process a monthly payment as well as a $35.00 application fee. These fees are determined at your appointment we cannot get you PREAPPROVED.  Please read the following guidelines and requirements for you to quality: 
To get approved  you must . . . 
-          a Debit Card attached to a checking account
-          the Checking Account MUST be over 90 days old
-           if not signed up for online banking/ provide copies of the last three checking account statements from date of application back 3 months
-          statements must reflect regular monthly deposits applied to the checking account
-          the routing number and checking account number
-          a Valid driver's license or state ID
-          an email address
-          three (3) contact phone numbers (work, friends and family are fine)
-          monthly net income
-          not in bankruptcy and have not filed bankruptcy recently
- Please note, ALL payments MUST be made via the debit card attached to the checking account.  No cash, checks or money orders are accepted for the 30% down or the monthly payments.
-The individual that is setting up the payment plan MUST be present to sign the contract and pay and sign for the 30% down payment.
-iCare allows you to choose the day of the month in which you would like your payment to go through (between the 1st and 24th of each month).  Once the date is chosen, it cannot be changed.  If the payment does not go through on the scheduled date, iCare will being collection proceedings and reserve the right to charge you a $50.00 late fee.
CALL US FOR DETAILS!
Dental Insurance
We are in network with several dental insurance companys and most patients have out of network benefits that will work here as well.  We would be happy to make an inquiry with your insurance company on your behalf to check your benefits, co-pays, deductibles and services.  We do recommend sending in predeterminations to verify the dental benefits prior to services being rendered.  If you have any questions about our financial policies as they apply to your dental insurance, please give us a call during business hours.