"All-on-4" Treatment Concept by Nobel Biocare
We are excited to announce a wonderful treatment option for our patients that have ill-fitting dentures!  It is called, ALL-ON-4 by Nobel Biocare.
The All-on-4 treatment concept provides the edentulous and soon-to-be-edentulous patients with a fixed, complete arch prosthesis that is placed on four dental implants.  Providing this service assists our patients by improving their chewing ability, speech, it is pleasing to the eye and not to mention the patient's improved self-esteem.
This system reduces the number of dental appointments and the overall treatment time.  It also saves the patient a great deal of money as compared to other implant supported treatment options.
 However, not everyone is a candidate.  Dr. Conaghan will determine if you are a candidate and which treatment option is best for you.  (See image below for All-on-4.)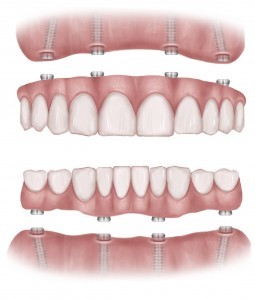 This image demonstrates an All-on-4, prosthesis where 4 locators are screw retained and only removable by a Dentist.
All-on-4 Prosthesis             $21,500.00 per arch**